The Authority of Byak's Kankain Karkara in Resolving Customary Offenses
Deki Demianus Korwa

Papua & West Papua's Higher Education Service Institutions Region XIV
Keywords:
Byak's Kankain Karkara, Customary Offense, Traditional Institution
Abstract
This study seeks to examine the implementation of the role of Byak's customary institutions in customary law communities and the effectiveness of customary institutions in carrying out their functions. This type of research was normative-empirical legal research. The results of the study explain that several crimes that have been handled by the Byak's Kankain Karkara Institution are murder, domestic violence (KDRT), humiliation, Out-of-wedlock births and other crimes that often occur. The obstacle faced by tribal chiefs or mananwir in handling cases is the postponement of the trial due to the perpetrators needing time to pay back loss. In addition, weak evidence makes it difficult to examine. There are some people who solve these problems amicably because they do not want the problems to be known by many people.
Downloads
Download data is not yet available.
References
Jurnal
Abdullah, Arifin. "Teori Terbentuknya Lembaga Adat." Jurnal Justisia: Jurnal Ilmu Hukum, Perundang-Undangan Dan Pranata Sosial 1, no. 1 (2016): 1–19. http://dx.doi.org/10.22373/justisia.v1i1.2563.
Awi, Sara Ida Magdalena. "Para-Para Adat Sebagai Lembaga Peradilan Adat Pada Masyarakat Hukum Adat Port Numbay Di Kota Jayapura." Jurnal Magister Hukum Udayana (Udayana Master Law Journal) 2, no. 1 (2013): 1–19. https://doi.org/10.24843/JMHU.2013.v02.i01.p07.
Eka, Rantau Isnur. "Eksistensi Peradilan Adat Pada Sistem Hukum Pidana Di Indonesia Dalam Upaya Pembaharuan Hukum Pidana Nasional." Pajoul: Pakuan Justice Journal of Law 2, no. 1 (2021): 63–73. https://doi.org/10.33751/pajoul.v2i1.3409.
Hamid, Kasim Abdul. "Pilihan Hukum Adat Dalam Penyelesaian Sengketa Di Tanah Papua." Jurnal Ilmu Hukum Kyadiren 1, no. 1 (2019): 54–64. https://doi.org/10.46924/jihk.v1i1.121.
Kunto Dewandaru, Hilarius, Paramita Prananingtyas, and Mujiono Hafidh Prasetyo. "Pelaksanaan Pembagian Waris Dalam Sistem Kewarisan Patrilineal Menurut Masyarakat Timika, Papua." Notarius: Jurnal Studi Kenotariatan 13, no. 2 (2020): 493–503. https://doi.org/10.14710/nts.v13i2.30884.
Maulidiyah, Indah, Yusdiyanto Yusdiyanto, and Ahmad Saleh. "Kedudukan Dan Partisipasi Lembaga Adat Dalam Pembentukan Peraturan Pekon Di Pekon Way Empulau Ulu Kec. Balik Bukit Kab. Lampung Barat." Fiat Justisia: Jurnal Ilmu Hukum 8, no. 3 (2014): 500–516. https://doi.org/10.25041/fiatjustisia.v8no3.308.
Mulyadi, Tri, Kamsi Kamsi, Surwandono Surwandono, and Trisno Raharjo. "The Legitimacy of Ondoafi in Conflict Settlement of Customary Land Tenure in Sentani, Papua." Jurnal Media Hukum 26, no. 1 (2019): 112–21. https://doi.org/10.18196/jmh.20190127.
Muslim Lobubun. "Upaya Peningkatan Status Bandara Frans Kaisiepo Biak Sebagai Bandara Internasional." Jurnal Ilmu Hukum Kyadiren 1, no. 1 (2019): 1–13. https://doi.org/10.46924/jihk.v1i1.117.
Natalia, Kristin. "Peranan Lembaga Adat Dalam Pelaksanaan Pembangunanan Di Desa Balla Barat Kecamatan Balla Kabupaten Mamasa." Government: Jurnal Ilmu Pemerintahan 12, no. 1 (2019): 15–20. https://journal.unhas.ac.id/index.php/government/article/view/8014.
Prasetio, Dicky Eko. "Inventarisasi Putusan Peradilan Adat Sendi Sebagai Upaya Memperkuat Constitutional Culture Dalam Negara Hukum Pancasila." Jurnal Hukum Lex Generalis 2, no. 3 (2021): 249–73. https://doi.org/10.56370/jhlg.v2i3.34.
Rahman, Fathor. "Eksistensi Peradilan Adat Dalam Peraturan Perundang-Undangan Di Indonesia." Jurnal Hukum Samudra Keadilan 13, no. 2 (2018): 321–36. https://ejurnalunsam.id/index.php/jhsk/article/view/1066.
Satya, Marina. "Legal Protection of Land Right Holders Against The Establishment of The Rechtsverwerking Institution." Jurnal Ilmu Hukum Kyadiren 2, no. 2 (2021): 120–27. https://doi.org/10.46924/jihk.v2i2.138.
Simarmata, Rikardo. "Kedudukan Dan Peran Peradilan Adat Pasca-Unifikasi Sistem Peradilan Formal." Undang: Jurnal Hukum 4, no. 2 (2021): 281–308. https://doi.org/10.22437/ujh.4.2.281-308.
Suwarni, Wahyu. "Obstacles To Enforcement Of Book Copyright Law In Indonesia Based On The Legal Structure, Legal Substance, And Legal Culture." International Journal of Advanced Research and Publications (IJARD) 3, no. 3 (2019): 153–57.
Toatubun, Hamza. "Pembagian Warisan Bagi Anak Perempuan Ditinjau Dari Hukum Adat Byak." Jurnal Ilmu Hukum Kyadiren 1, no. 2 (2020): 65–76. https://doi.org/10.46924/jihk.v1i2.122.
Utama, Tody Sasmitha Jiwa, and Sandra Dini Febri Aristya. "Kajian Tentang Relevansi Peradilan Adat Terhadap Sistem Peradilan Perdata Indonesia." Mimbar Hukum 27, no. 1 (2015): 57–67. https://doi.org/10.22146/jmh.15910.
Widodo, Hananto, Sudarsono Sudarsono, Mohammad Fadli, and Tunggul Anshari S.N. "The Legal Politics of the Inquiry Rights of the House of Representatives Post 1945 Constitutional Amendment." Journal of Law, Policy and Globalization 85 (2019): 123–32. https://doi.org/10.7176/jlpg/85-14.
Tesis
Anastasia, Novilda. "Kedudukan Anak Perempuan Dalam Menerima Harta Warisan Menurut Hukum Waris Adat Suku Biak Di Daerah Papua." Universitas Sumatera Utara, 2017. https://repositori.usu.ac.id/handle/123456789/17343.
Buku
Lobubun, Muslim. Hukum Pengelolaan Sumber Daya Alam: Studi Terhadap Sumber Daya Alam Tambang Dan Hutan Papua. Yogyakarta: Litera, 2019.
Sudantra, I Ketut. Sesana Prajuru Desa Tata Laksana Pimpinan Desa Adat Di Bali. Denpasar: Udayana University Press, 2012.
Wawancara
Rumkorem, Yunus. "Wawancara Dengan Tetua Adat Biak." 2021.
Wakanuay, Rudolf. "Wawancara Dengan Tetua Adat Biak." 2021.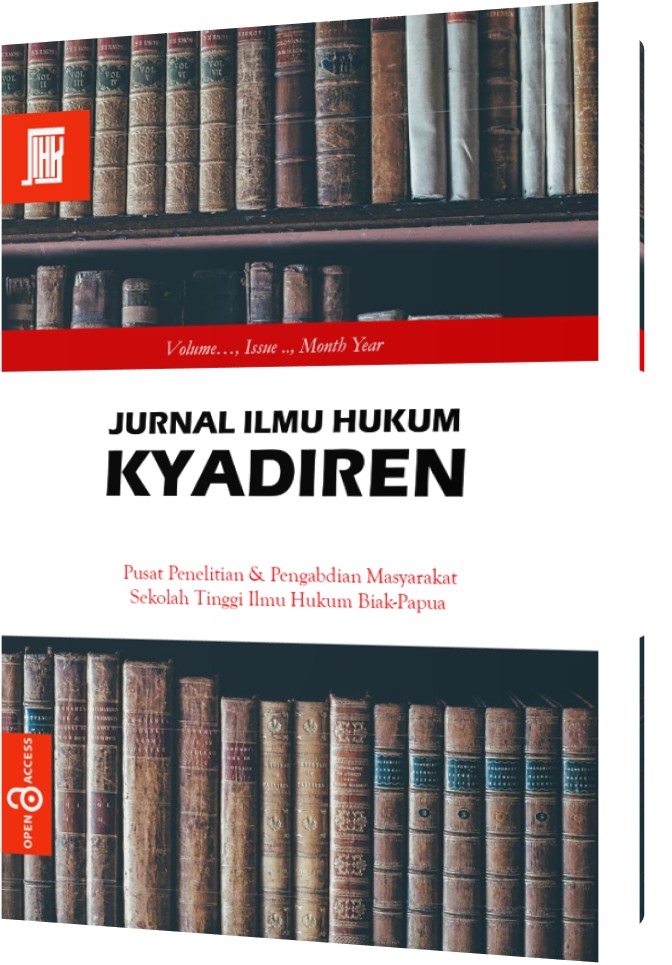 How to Cite
Korwa, D. D. (2022). The Authority of Byak's Kankain Karkara in Resolving Customary Offenses. Jurnal Ilmu Hukum Kyadiren, 4(1), 1-10. https://doi.org/10.46924/jihk.v4i1.162
Section
Original Research Articles
Copyright (c) 2022 Jurnal Ilmu Hukum Kyadiren
This work is licensed under a Creative Commons Attribution 4.0 International License.
Authors who publish with this journal agree to the following terms:
Copyright on any article is retained by the author(s).
The author grants the journal, the right of first publication with the work simultaneously licensed under a Creative Commons Attribution License that allows others to share the work with an acknowledgment of the work's authorship and initial publication in this journal.
Authors are able to enter into separate, additional contractual arrangements for the non-exclusive distribution of the journal's published version of the work (e.g., post it to an institutional repository or publish it in a book), with an acknowledgment of its initial publication in this journal.
Authors are permitted and encouraged to post their work online (e.g., in institutional repositories or on their website) prior to and during the submission process, as it can lead to productive exchanges, as well as earlier and greater citation of published work.
The article and any associated published material is distributed under the Creative Commons Attribution 4.0 International License