Implementation of E-Court in Court proceedings
Jane Shirley Wambrauw

Papua & West Papua's Higher Education Services Institutes
Keywords:
Implementation of E-Court, Procedure for Proceedings, District Courts
Abstract
This study aims to examine how e-Court is applied in a judicial environment based on Supreme Court Regulation (Perma) No. 1 of 2019. This research applies an empirical juridical approach. The results showed that the implementation of e-Court specifically at Biak's District Court was applied only to the e-Payment process. Apart from that, Biak's District Court has not maximally implemented this e-Court application, due to the letter of the Secretary of the Supreme Court No. 630/SEK/SK/VII/2019 which explains that the court appointed as a pilot in implementing e-Court in the judicial environment. In addition, to support the good implementation of e-Court, human resources who understand digital literacy are needed to realize fast and low-cost justice.
Downloads
Download data is not yet available.
References
Jurnal
Ahyani, Hisam, Muhammad Ghofir Makturidi, and Muharir Muharir. "Administrasi Perkara Perdata Secara E-Court Di Indonesia." Batulis Civil Law Review 2, no. 1 (2021): 56–65. https://doi.org/10.47268/ballrev.v2i1.521.
Anwar, Iryana, and Muslim Lobubun. "The Role and Function of Legal Aid Posts (Posbakum) at Biak's Religious Court Class IIB." Volksgeist: Jurnal Ilmu Hukum Dan Konstitusi 4, no. 2 (2021): 139–51. https://doi.org/10.24090/volksgeist.v4i2.5184.
Arrasyid, Yanuriansyah. "Resensi Buku: Penelitian Hukum: Pilihan Metode Dan Praktik Penulisan Artikel (Edisi Revisi)." Jurnal Ilmu Hukum Kyadiren 3, no. 1 (2021): 55–58. https://doi.org/10.46924/jihk.v3i1.147.
Berutu, Lisfer. "Mewujudkan Peradilan Sederhana, Cepat Dan Biaya Ringan Dengan e- Court." Jurnal Ilmiah Dunia Hukum 5, no. 1 (2020): 41–53. http://dx.doi.org/10.35973/jidh.v5i1.1552.
Herdiana, Dadan, Susanto Susanto, Muhammad Iqbal, Iin Indriani, and Wawan Supriyatna. "Pelatihan Penggunaan Aplikasi E-Court Untuk Paralegal Di Lembaga Bantuan Hukum Unggul." Abdi Laksana: Jurnal Pengabdian Kepada Masyarakat 2, no. 1 (2021): 110–15. http://dx.doi.org/10.32493/al-jpkm.v2i1.8781.
Madellu, Karini Rivayanti, Hamzah Halim, and Hasbir Paserangi. "Pelaksanaan E-Court Dalam Perkara Perdata Di Pengadilan Negeri Kota Makassar." Jurnal Justitia 9, no. 1 (2022): 531–47. http://dx.doi.org/10.31604/justitia.v9i1.531-547.
Nursobah, Asep. "Pemanfaatan Teknologi Informasi Untuk Mendorong Percepatan Penyelesaian Perkara Di Mahkamah Agung." Jurnal Hukum Dan Peradilan 4, no. 2 (2015): 323–34. http://dx.doi.org/10.25216/jhp.4.2.2015.323-334.
Paridah, Baiq. "Implementasi Dan Dampak E-Court (Elektronics Justice System) Terhadap Advokat Dalam Proses Penyelesaian Perkara Di Pengadilan Negeri Selong." Juridica Jurnal Fakultas Hukum Universitas Gunung Rinjani 2, no. 1 (2020): 41–54. https://doi.org/10.46601/juridica.v2i1.180.
Retnaningsih, Sonyendah, Disriani Latifah Soroinda Nasution, Rouli Velentina Anita, and Kelly Manthovani. "Pelaksanaan E-Court Menurut Perma No. 3 Tahun 2018 Dan e-Litigation Menurut Perma No. 1 Tahun 2019." Jurnal Hukum & Pembangunan 50, no. 1 (2020): 124–44. http://dx.doi.org/10.21143/jhp.vol50.no1.2486.
Rosady, Rakyu Swarnabumi R., and Mulida Hayati. "Sistem E-Court Dalam Pelaksanaan Peradilan Di Indonesia Pada Masa Pandemi Covid-19." Jurnal Ilmu Hukum Tambun Bungai 6, no. 2 (2021): 125–43. https://journal.stihtb.ac.id/index.php/jihtb/article/view/203.
Salima, Safira Khofifatus, and Endrik Safudin. "Efektivitas Penyelesaian Perkara Secara E-Court Di Pengadilan Agama Kabupaten Kediri." Jurnal Antologi Hukum 1, no. 2 (2021): 18–35. https://doi.org/10.21154/antologihukum.v1i2.307.
Setiawan, Annisa Dita, and Sherly Ayuna Putri. "Implementasi Sistem E-Court Dalam Penegakan Hukum Di Pengadilan Negeri." Jurnal Poros Hukum Padjajaran 2, no. 2 (2021): 198–217. https://doi.org/10.23920/jphp.v2i2.352.
Sudarsono, NFN. "Penerapan Peradilan Elektronik Di Lingkungan Peradilan Tata Usaha Negara." Jurnal Hukum Peratun 1, no. 1 (2018): 57–78. https://doi.org/10.25216/peratun.112018.%25p.
Suriani, Suriani, and Ismail Ismail. "Pengaruh Pandemi Covid-19 Terhadap Pelaksanaan Persidangan Perkara Pidana Di Pengadilan." In Prosiding Seminar Nasional Multi Disiplin Ilmu: Sinergi Hasil Penelitian Dalam Menghasilkan Inovasi Di Era Revolusi 4.0., 787–800. Sumatera Utara: Universitas Asahan, 2020. http://jurnal.una.ac.id/index.php/semnasmudi/article/view/1581.
Triana, Anggreani, and Taun. "Efektivitas Implementasi E-Court Sebagai Perwujudan Peradilan Cepat, Sederhana Dan Biaya Rimgam Di Pengadilan Negeri Karawang." Kertha Semaya 9, no. 7 (2021): 1099–1111. https://doi.org/10.24843/KS.2021.v09.i07.p02.
Ulfiah, Siti Amatil, and Vena Lidya Khairunissa. "Urgensi Pelaksanaan E-Litigasi Dalam Persidangan Perkara Perdata Pada Masa Pandemi Covid-19." Surya Kencana Satu: Dinamika Masalah Hukum Dan Keadilan 12, no. 2 (2021): 150–62. http://dx.doi.org/10.32493/jdmhkdmhk.v12i2.15864.
Wardah, Rizky Zahratul, Alief Tiyan Cahyani, Anindya Octaviani, Halimatus Syakdiyah, Helga Fatma Mandy Pramana, and Intan Laili Eka Ramadhanti. "Penerapan E-Court Di Pengadilan Agama Pasuruan." Ma'mal Jurnal Laboratorium Syariah Dan Hukum 1, no. 4 (2020): 325–43. https://doi.org/10.15642/mal.v1i4.22.
Wawancara
Nababan, Kemala. "Wawancara Hakim Pengadilan Negeri Biak." 2021.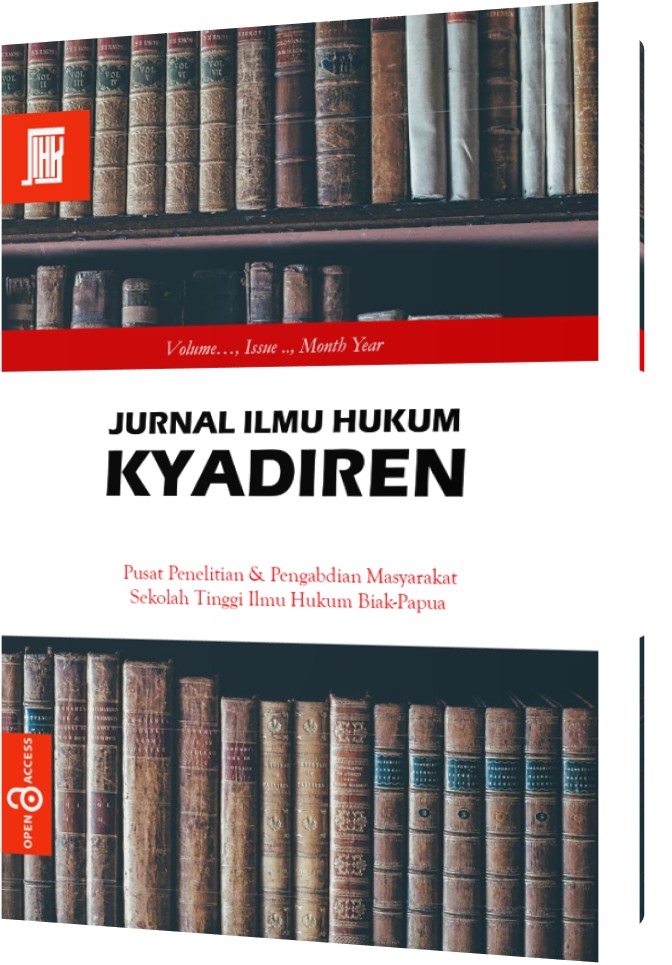 How to Cite
Wambrauw, J. S. (2022). Implementation of E-Court in Court proceedings. Jurnal Ilmu Hukum Kyadiren, 4(1), 11-20. https://doi.org/10.46924/jihk.v4i1.160
Section
Original Research Articles
Copyright (c) 2022 Jurnal Ilmu Hukum Kyadiren
This work is licensed under a Creative Commons Attribution 4.0 International License.
Authors who publish with this journal agree to the following terms:
Copyright on any article is retained by the author(s).
The author grants the journal, the right of first publication with the work simultaneously licensed under a Creative Commons Attribution License that allows others to share the work with an acknowledgment of the work's authorship and initial publication in this journal.
Authors are able to enter into separate, additional contractual arrangements for the non-exclusive distribution of the journal's published version of the work (e.g., post it to an institutional repository or publish it in a book), with an acknowledgment of its initial publication in this journal.
Authors are permitted and encouraged to post their work online (e.g., in institutional repositories or on their website) prior to and during the submission process, as it can lead to productive exchanges, as well as earlier and greater citation of published work.
The article and any associated published material is distributed under the Creative Commons Attribution 4.0 International License