Court Dispensation Regarding Early Marriage Application
Ade Kurniawan

Biak's Religious Court, Papua
Keywords:
Court Dispensation, Filing of Application, Early Marriage
Abstract
This study aims to examine the various factors that lead to the emergence of early marriage and examine the judge's decision which gives consideration in its determination and grants early marriage in Biak Numfor Regency. The research method used was empirical juridical research method. The research result shows that various factors that cause teenagers' desire to have an early marriage include education, environment, customs, economy, and the individual intention to be immediately separated from his parents and want to live independently. The judge in making a decision of course considers the available evidence, because the evidence encourages the judge's power in making a decision and determination as the legal guideline.
Downloads
Download data is not yet available.
References
Jurnal
Anwar, Chairanisa, and Ernawati Ernawati. "Faktor-Faktor Yang Mempengaruhi Remaja Putri Melakukan Pernikahan Dini Di Kemukiman Lambaro Angan Kabupaten Aceh Besar Tahun 2017." Journal of Healthcare Technology and Medicine 3, no. 2 (2017): 140–53. https://doi.org/10.33143/jhtm.v3i2.266.
Ardita, Bram Debbel, Muhammad Afied Hambali, and Adhy Nugraha. "Problematika Pernikahan Dibawah Umur Di Indonesia." Rechmatig: Jurnal Hukum Tata Negara 7, no. 1 (2021): 1–7. https://journalfhunsa.com/index.php/rechtmatig/article/view/75.
Fadilah, Dini. "Tinjauan Dampak Pernikahan Dini Dari Berbagai Aspek." Jurnal Pamator: Jurnal Ilmiah Universitas Trunojoyo 14, no. 2 (2021): 88–94. https://doi.org/10.21107/pamator.v14i2.10590.
Handayani, Sri, Syarifah Nuraini, and Rozana Ika Agustiya. "Faktor-Faktor Penyebab Pernikahan Dini Di Beberapa Etnis Indonesia." Buletin Penelitian Sistem Kesehatan 24, no. 4 (2021): 245–57. https://doi.org/10.22435/hsr.v24i4.4619.
Judiasih, Sonny Dewi, Susilowati Suparto, and Anita Afriana. "Dispensasi Pengadilan: Telaah Penetapan Pengadilan Atas Permohonan Perkawinan Di Bawah Umur." ADHAPER: Jurnal Hukum Acara Perdata 3, no. 2 (2017): 191. https://doi.org/10.36913/jhaper.v3i2.51.
Kasmuddin, Kasmudin. "Rekonstruksi Pengaturan Perkawinan Anak Dibawah Umur Berbasis Nilai Keadilan." Jurnal Hukum Kaidah 18, no. 2 (2019): 58–70. https://doi.org/10.30743/jhk.v18i2.1182.
Lubis, Anggreni Atmei. "Latar Belakang Wanita Melakukan Perkawinan Usia Dini." Jurnal Ilmu Pemerintahan Dan Sosial Politik UMA 4, no. 2 (2016): 150–60. https://doi.org/10.31289/jppuma.v4i2.453.
Mniber, Emilia Kristine Oktavia. "Analisis Yuridis Tindak Pidana Persetubuhan Anak Dibawah Umur Wilayah Hukum Biak Numfor." Jurnal Ilmu Hukum Kyadiren 3, no. 1 (2021): 21–33. https://doi.org/10.46924/jihk.v3i1.146.
Mubasyaroh, Mubasyaroh. "Analisis Faktor Penyebab Pernikahan Dini Dan Dampaknya Bagi Pelaku." Yudisia: Jurnal Pemikiran Hukum Dan Hukum Islam 7, no. 2 (2016): 386–411. http://dx.doi.org/10.21043/yudisia.v7i2.2161.
Narti, Samsi. "Faktor Yang Memengaruhi Kejadian Pernikahan Usia Dini Pada Remaja Putri Di Kecamatan Lembah Melintang." Jurnal Kesehatan Global 3, no. 2 (2020): 55–61. https://doi.org/10.33085/jkg.v3i2.4624.
Pramana, I Nyoman Adi, Warjiman Warjiman, and Luckyta Ibna Permana. "Faktor-Faktor Yang Mempengaruhi Pernikahan Usia Dini Pada Remaja Wanita." JKSI: Jurnal Keperawatan Suaka Insan 3, no. 2 (2018): 15–30. https://doi.org/10.51143/jksi.v3i2.109.
Rokhim, Abdul, and Ludya Sirait. "Tinjauan Yuridis Perkawinan Dibawah Umur Dan Perceraian Di Pengadilan Agama Kelas 1A Samarinda." Legalitas: Jurnal Ilmiah Ilmu Hukum 1, no. 2 (2016): 111–20. https://doi.org/10.31293/lg.v1i2.2864.
Rosanti, Trisna, Sukmawati Sukmawati, and Lilis Mumuroh. "Gambaran Budaya Orang Tua Tentang Pernikahan Dini." Jurnal Keperawatan BSI 8, no. 2 (2020): 256–67. https://ejurnal.ars.ac.id/index.php/keperawatan/article/view/425.
Salam, Safrin. "Dispensasi Perkawinan Anak Di Bawah Umur: Perspektif Hukum Adat, Hukum Negara & Hukum Islam." Pagaruyuang Law Jurnal 1, no. 1 (2017): 110–24. https://doi.org/10.31869/plj.v1i1.273.
Yanti, Yanti, Hamidah Hamidah, and Wiwita Wiwita. "Analisis Faktor Penyebab Dan Dampak Pernikahan Dini Di Kecamatan Kandis Siak." Jurnal Ibu Dan Anak 6, no. 2 (2018): 96–103. https://doi.org/10.36929/jia.v6i2.94.
Buku
Ali, Zainuddin. Hukum Perdata Islam Di Indonesia. Jakarta: Sinar Grafika, 2012.
Internet
Kartinah, Eni. "Angka Pernikahan Dini Indonesia Tertinggi Kedua Di Asia Tenggara." Media Indonesia, 2019. https://mediaindonesia.com/humaniora/267244/angka-pernikahan-dini-indonesia-tertinggi-kedua-di-asia-tenggara.
Pengadilan Negeri Biak. "Penetapan Pengadilan Negeri Biak." Direktori Putusan Mahkamah Agung, 2020. https://putusan3.mahkamahagung.go.id/direktori/putusan/f3341cfed95460abd59b3e797f109584.html.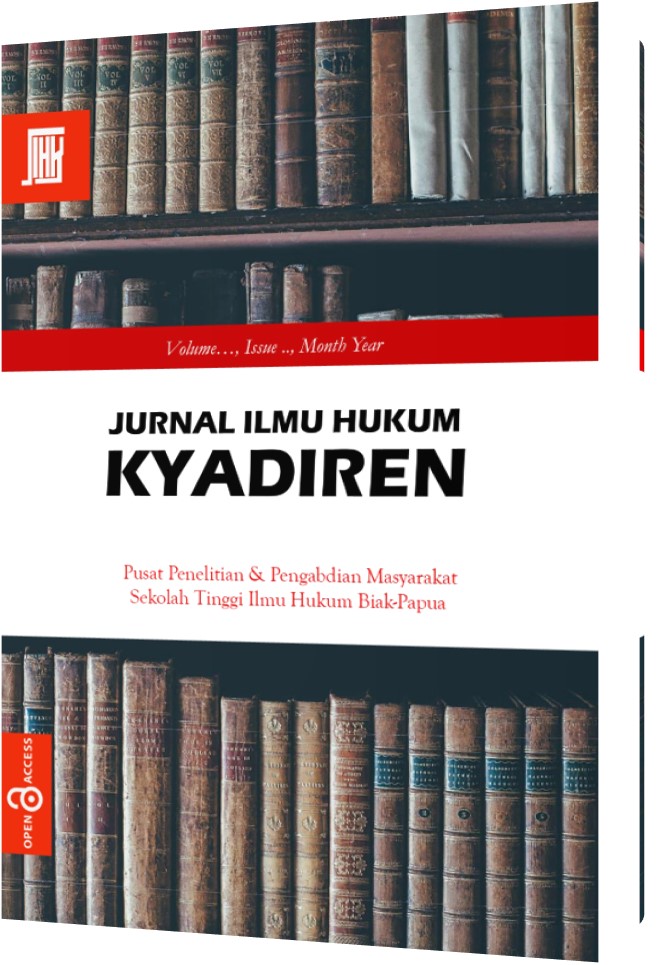 How to Cite
Kurniawan, A. (2022). Court Dispensation Regarding Early Marriage Application. Jurnal Ilmu Hukum Kyadiren, 3(2), 59-67. https://doi.org/10.46924/jihk.v3i2.150
Section
Original Research Articles
Copyright (c) 2022 Jurnal Ilmu Hukum Kyadiren
This work is licensed under a Creative Commons Attribution 4.0 International License.
Authors who publish with this journal agree to the following terms:
Copyright on any article is retained by the author(s).
The author grants the journal, the right of first publication with the work simultaneously licensed under a Creative Commons Attribution License that allows others to share the work with an acknowledgment of the work's authorship and initial publication in this journal.
Authors are able to enter into separate, additional contractual arrangements for the non-exclusive distribution of the journal's published version of the work (e.g., post it to an institutional repository or publish it in a book), with an acknowledgment of its initial publication in this journal.
Authors are permitted and encouraged to post their work online (e.g., in institutional repositories or on their website) prior to and during the submission process, as it can lead to productive exchanges, as well as earlier and greater citation of published work.
The article and any associated published material is distributed under the Creative Commons Attribution 4.0 International License