Therapeutic Agreements with Patients Before Surgery: A Case Study of Biak's Regional Public Hospital
Inosentius Teturan

Universitas Cenderawasih, Jayapura
Keywords:
Therapeutic Agreements, Patient Surgery, Biak's Regional General Hospital
Abstract
This study aims to determine the provision of tarapeutic agreement particularly at Biak's Regional General Hospital. In addition, this study also seeks to determine the legal protection for health workers and patients in therapeutic agreements. This study used a normative-empirical juridical research method where the data sources were available through literature review and also through the process of involved observation and interviews with related parties. The results of this study indicate that Biak's Regional General Hospital has carried out the therapeutic agreements properly to obtain certainty in legal standing by involving doctors in the therapeutic agreement so that patients also get certainty in legal protection if negligence happens. The doctors also get legal protection from existing regulations. Therefore, legal protection for patients and health workers is clear in accordance with existing regulations such as the Consumer Protection Act, Law no. 23/1992 on Health, and Law No. 29/2004 on Medical Practice.
Downloads
Download data is not yet available.
References
Jurnal
Ashari, Mujiati, Florence Lengkong, and Salmin Dengo. "Efektivitas Pelayanan Kesehatan Di Rumah Sakit Umum Daerah Waisai Kabupaten Raja Ampat Provinsi Papua Barat." Jurnal Administrasi Publik 7, no. 103 (2021): 8–15. https://ejournal.unsrat.ac.id/index.php/JAP/article/view/33601.
Dewantari, Sagung Ayu Yulita, and Putu Tuni Cakabawa Landra. "Perspektif Perlindungan Hukum Terhadap Pasien Serta Pertanggungjawaban Atas Pelanggaran Perjanjian Terapeutik Berdasarkan Hukum Perdata." Kertha Semaya 3, no. 1 (2018): 1–16. https://ojs.unud.ac.id/index.php/kerthasemaya/article/view/42669.
Fatimah, Anggraini Nurul, and Aminah Dewi Hendrawati. "Pelaksanaan Perjanjian Oprasi Bedah Caesar Antara Pasien Dengan Pihak Rumah Sakit Ditinjau Dari Hukum Perjanjian Dan Undang-Undang No.29 Tahun 2004 Tentang Praktik Kedokteran (Studi Kasus: Rumah Sakit Pku Muhammadiyah Surakarta)." Diponegoro Law Journal 6, no. 2 (2017): 1–15. https://ejournal3.undip.ac.id/index.php/dlr/article/view/17366.
Kusumaningrum, Anggraeni Endah. "Analisis Transaksi Terapeutik Sarana Perlindungan Hukum Bagi Pasien." Jurnal Ilmiah Dunia Hukum 1, no. 1 (2016): 1–17. https://doi.org/10.35973/jidh.v1i1.603.
Nuha, Ricard. "Analisis Hukum Kontrak Teraupeutik Terhadap Tindakan Medik Dalam Hubungan Pasien Dengan Dok Ter Di Rumah Sakit." Jurnal Lex et Societas 4, no. 2 (2016): 40. https://doi.org/10.35796/les.v4i3.11527.
Putra, Sarsintorini. "Inspanningsverbintenis Dan Resultaatsverbintenis Dalam Transaksi Terapeutik Kaitannya Dengan UU No. 8 Tahun 1999 Tentang Perlindungan Konsumen." Jurnal Hukum IUS QUIA IUSTUM 8, no. 18 (2001): 199–211. https://doi.org/10.20885/iustum.vol8.iss18.art14.
Setiawan, Made Hadi, and A. A. Gede Agung Dharma Kusuma. "Tanggung Jawab Perdata Dokter Kepada Pasien Dalam Transaksi Terapeutik." Kertha Semaya : Journal Ilmu Hukum 3, no. 5 (2015): 1–5. https://ojs.unud.ac.id/index.php/kerthasemaya/article/view/11963.
Sinaga, Niru Anita. "Perjanjian Terapeutik Kaitannya Dengan Informed Consent Dalam Praktik Kedokteran Di Indonesia." Jurnal Ilmiah Hukum Dirgantara 12, no. 1 (2021): 30–45. https://doi.org/10.35968/jihd.v12i1.876.
Wardhani, Ida Ayu Sri Kusuma. "Implementasi Persetujuan Tindakan Kedokteran (Informed Consent ) Dalam Perjanjian Terapeutik Oleh Tenaga Kesehatan Terhadap Pasien Rumah Sakit Di Provinsi Bali." Jurnal Magister Hukum Udayana (Udayana Master Law Journal) 3, no. 1 (2014): 1–17. https://doi.org/10.24843/JMHU.2014.v03.i01.p07.
Tesis
Shovia, Azka. "Wanprestasi Dalam Perjanjian Terapeutik Di Rumah Sakit Umum Daerah (RSUD) Dr. Moewardi Surakarta." UGM Repository. Universitas Gadjah Mada, 2012.
Buku
Asyhadie, Zaeni. Aspek-Aspek Hukum Kesehatan Di Indonesia. 1st ed. Depok: Rajawali Press, 2017.
Irwansyah, Irwansyah. Penelitian Hukum: Pilihan Metode Dan Praktik Penulisan Artikel. Edited by Ahsan Yunus. Yogyakarta: Mirra Buana Media, 2021.
Koeswadji, Hermien Hadiati. Beberapa Permasalahan Hukum Dan Medik. 1st ed. Bandung: PT. Citra Aditya Bakti, 1992.
Komalawati, D. Veronika. Segi-Segi Etis Dan Yuridis Informed Consent. Jakarta: Putra Sinar Harapan, 1984.
Machmud, Syahrul. Penegakan Hukum Dan Perlindungan Hukum Bagi Dokter Yang Diduga Melakukan Medikal Malpraktik. Jakarta: Sinar Grafika, 2010.
Sampurna, Budi. Aspek Medikolegal Pelayanan Medik Masa Kini Dan Kaitannya Dengan Manajemen Resiko Klinik. Jakarta: Sinar Grafika, 2005.
Siswati, Sri. Etika Dan Hukum Kesehatan Dalam Perspektif Undang-Undang Kesehatan. 1st ed. Depok: PT. Rajawali, 2017.
Subekti. Hukum Perjanjian. Jakarta: PT. Intermasa, 2002.
Wiradharma, Danny. Penuntun Kuliah Hukum Kedokteran. Bandung: Binarupa Aksara, 2004.
Peraturan Perundang-undangan
Indonesia. KUHPerdata, Pasal 1338 tentang Asas Kebebasan Berkontrak (1830).
———. KUHPerdata Pasal 1320, tentang syarat-syarat sah perjanjian (1830).
———. Undang-Undang No. 36 tentang Kesehatan (2009).
———. Undang-Undang Nomor 29 tentang Praktik Kedokteran (2004).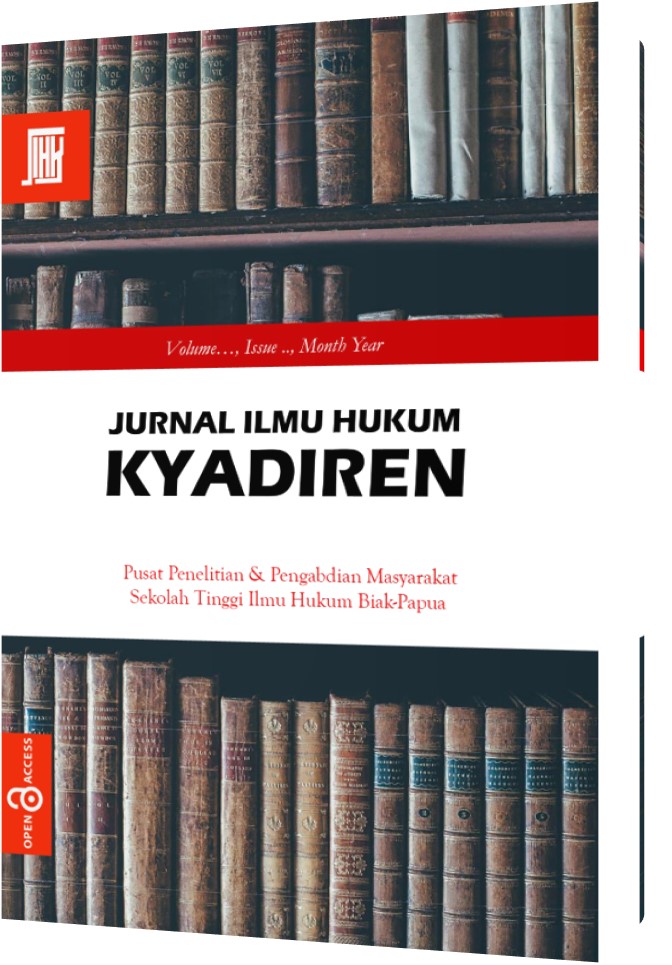 How to Cite
Teturan , I. (2021). Therapeutic Agreements with Patients Before Surgery: A Case Study of Biak's Regional Public Hospital. Jurnal Ilmu Hukum Kyadiren, 3(1), 34-44. https://doi.org/10.46924/jihk.v3i1.148
Section
Original Research Articles
Copyright (c) 2021 Pusat Penelitian & Pengabdian Masyarakat STIH Biak-Papua
This work is licensed under a Creative Commons Attribution 4.0 International License.
Authors who publish with this journal agree to the following terms:
Copyright on any article is retained by the author(s).
The author grants the journal, the right of first publication with the work simultaneously licensed under a Creative Commons Attribution License that allows others to share the work with an acknowledgment of the work's authorship and initial publication in this journal.
Authors are able to enter into separate, additional contractual arrangements for the non-exclusive distribution of the journal's published version of the work (e.g., post it to an institutional repository or publish it in a book), with an acknowledgment of its initial publication in this journal.
Authors are permitted and encouraged to post their work online (e.g., in institutional repositories or on their website) prior to and during the submission process, as it can lead to productive exchanges, as well as earlier and greater citation of published work.
The article and any associated published material is distributed under the Creative Commons Attribution 4.0 International License