Applying the Contradictoire Delimitatie Principle in the Implementation of Land Registration in Biak Numfor Regency
Konstantina Renyaan

Badan Pertanahan Nasional Kabupaten Biak Numfor
Keywords:
Application of Principles, Contradictoire Delimitatie, Land Registration, Biak Numfor
Abstract
This study aims to examine the implementation of the Contradictoire Delimitatie principle in the first land registration and the elements that hinder the use of the Contradictoire Delimitatie guideline in the implementation of land registration especially in Biak Numfor. This type of research is an empirical juridical research. The research was carried out at the National Land Agency (BPN) of Biak Numfor Regency. Data were provided through related document review, observation and interviews with related officers. The research data were then analyzed descriptively. The results confirm 1) the application of Contradictoire Delmitatie in determining the land boundaries during registration process at Biak's BPN has not gone well. The parties are required to show their existing land boundaries either signs or stakes. 2) The factors that inhibit Contradictoire Delmitatie principle related to land boundary determination during the registration process are land boundary discrepancies, boundary stakes that cause unclear land, the absence of the parties during land boundary determination
Downloads
Download data is not yet available.
References
Jurnal
Abe, Ruktisandi Sindu, and Aryani Witasari. "Perlindungan Hukum Atas Perbedaan Luas Faktual Dengan Surat Ukur Pada Sertifikat Hak Atas Tanah." Lex Journal: Kajian Hukum & Keadilan 1, no. 2 (2017): 1–24. https://doi.org/10.25139/lex.v1i2.551.
Arief, Anggraeny. "Pelaksanaan Asas Kontradiktur Delimitasi Dalam Proses Pendaftaran Tanah Sistematis Lengkap." Jurisprudentie: Jurusan Ilmu Hukum Fakultas Syariah Dan Hukum 5, no. 1 (2018): 206–15. https://doi.org/10.24252/jurisprudentie.v5i2.5812.
Harahap, Syafril Hamonangan. "Pemberlakuan Asas Contradictoire Delimitatie Dalam Pendaftaran Tanah Pertama Kali (Studi Kasus Putusan MA Nomor 77/PK/TUN/2015." Jurnal Hukum Positium 1, no. 1 (2015): 25–47. https://doi.org/10.1145/3132847.3132886.
Koswara, Indra Yudha. "Pendaftaran Tanah Sebagai Wujud Kepastian Hukum Dalam Rangka Menghadapi Masyarakat Ekonomi Asean (MEA)." Jurnal Hukum Positium 1, no. 1 (2016): 23–38. https://doi.org/10.35706/positum.v1i1.525.
Mujiburohman, Dian Aries. "Potensi Permasalahan Pendaftaran Tanah Sistematik Lengkap (PTSL)." Jurnal Bhumi 4, no. 1 (2018): 88–101. https://doi.org/10.31292/jb.v4i1.217.
Sagala, Elvia, and Ade Parlaungan Nasution. "Pendaftaran Tanah Tentang Hak Milik Di Tinjau Dari Nilai Ekonomi." Jurnal Ilmu Hukum 7, no. 1 (2019): 52–63. https://doi.org/10.36987/jiad.v7i1.245.
Santoso, Urip. "Eksistensi Hak Pengelolaan Dalam Hukum Tanah Nasional." Mimbar Hukum 24, no. 2 (2012): 187–375. https://doi.org/10.22146/jmh.16130.
Oe, Meita Djohan. "Tugas Dan Fungsi Badan Pertanahan Nasional Dalam Pendaftaran Tanah." Pranata Hukum: Jurnal Ilmu Hukum 10, no. 1 (2015): 62–74. http://jurnal.ubl.ac.id/index.php/PH/article/view/554.
Satya, Marina. "Legal Protection of Land Right Holders Against The Establishment of The Rechtsverwerking Institution." Jurnal Ilmu Hukum Kyadiren 2, no. 2 (2021): 120–27. https://doi.org/10.46924/jihk.v2i2.138.
Sibuea, Harris Yonatan Parmahan. "Arti Penting Pendaftaran Tanah Untuk Pertama Kali." Negara Hukum Membangun Hukum Untuk Keadilan Dan Kesejahteraan 2, no. 2 (2011): 287–306. https://doi.org/10.22212/jnh.v2i2.218.
Susanti, Ni Wayan Ari, and I Gusti Ayu Dike Widhyaastuti. "Pelaksanaan Asas 'Contradictoire Delimitatie' Dalam Pendaftaran Tanah Pertama Kali Secara Sporadik Di Kantor Pertanahan Kabupaten Bangli." Kertha Negara: Journal Ilmu Hukum 5, no. 1 (2017): 1–5. https://ojs.unud.ac.id/index.php/Kerthanegara/article/view/26617.
Tesis
Harianto. "Akibat Hukum Tidak Dilaksanakannya Pasal 17 Peraturan Pemerintah Nomor 24 Tahun 1997 Yang Mengatur Tentang Penetapan Batas Bidang Tanah (Studi Di Kantor Pertanahan Kabupaten Kayong Utara)." Thesis Fakultas Hukum. Universitas Islam Malang, 2020.
Buku
Hermawan, Yudy. "Pengaruh Penerapan Asas Contradictoire Delimitatir Terhadap Pekerjaan Pengukuran Tanah Di Kecamatan Bangil Kabupaten Pasuruan Provinsi Jawa Timur." Jakarta, 2021.
Urip, Santoso. Pendaftaran Dan Peralihan Hak Atas Tanah. 1st ed. Jakarta: Kencana Prenadamedia Group, 2010.
———. Hukum Agraria Kajian Komprehensif. Jakarta: Prenada Media Group, 2012.
Peraturan Perundang-Undangan
Indonesia. Peraturan Pemerintah No. 24, Pasal 19 tentang Pendaftaran Tanah (1997).
Indonesia, BPK Republik. "Penjelasan Umum Atas Undang-Undang Nomor 5 Tahun 1960 Tentang Peraturan Dasar Pokok-Pokok Agraria." BPK RI, 2014.
"Undang-Undang Nomor 24 Tahun Tentang Pendaftaran Tanah," 1997.
Wawancara
Nurmiati. "Wawancara Dengan Subseksi Penetapan Hak Dan Pendaftaran BPN Biak Numfor." 2021.
Rumaropen, Ruth Sahaya. "Wawancara Dengan Salah Satu Warga Kabupaten Biak Numfor." 2021.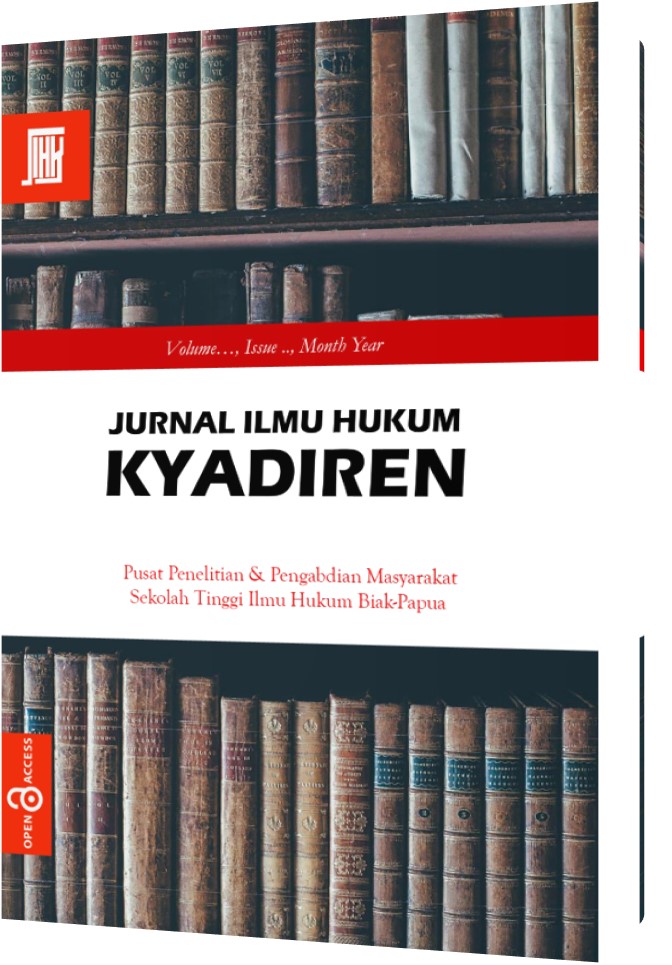 How to Cite
Renyaan , K. (2021). Applying the Contradictoire Delimitatie Principle in the Implementation of Land Registration in Biak Numfor Regency. Jurnal Ilmu Hukum Kyadiren, 3(1), 1-10. https://doi.org/10.46924/jihk.v3i1.143
Section
Original Research Articles
Copyright (c) 2021 Pusat Penelitian & Pengabdian Masyarakat STIH Biak-Papua
This work is licensed under a Creative Commons Attribution 4.0 International License.
Authors who publish with this journal agree to the following terms:
Copyright on any article is retained by the author(s).
The author grants the journal, the right of first publication with the work simultaneously licensed under a Creative Commons Attribution License that allows others to share the work with an acknowledgment of the work's authorship and initial publication in this journal.
Authors are able to enter into separate, additional contractual arrangements for the non-exclusive distribution of the journal's published version of the work (e.g., post it to an institutional repository or publish it in a book), with an acknowledgment of its initial publication in this journal.
Authors are permitted and encouraged to post their work online (e.g., in institutional repositories or on their website) prior to and during the submission process, as it can lead to productive exchanges, as well as earlier and greater citation of published work.
The article and any associated published material is distributed under the Creative Commons Attribution 4.0 International License