Peran Bhayangkara Pembina Keamanan dan Ketertiban Masyarakat (Bhabinkantibmas) Kepolisian Sektor Yendidori dalam Penanganan Tindak Pidana Ringan
Zasima Margawaty Djamil

Sekolah Tinggi Ilmu Hukum Biak-Papua
Keywords:
The Role of Bhabinkantibmas, Yendidori Sector Police, Minor Crimes
Abstract
This study aims to determine the process of handling minor crimes carried out by Bhayangkara Community Security and Order Trustees (Bhabinkamtibmas )of the National Police, so that from this process it can be seen the extent of the role of Bhabinkamtibmas in handling minor crimes in the Yendidori District, and to find out the obstacles faced by the National Police Bhabinkamtibmas in handling minor crimes in the district. Yendidiori District. The approach used in this research is sociological juridical research. Data collection techniques used are literature studies and field studies (interviews and observations). The results of the study indicate that the Yendidori National Police acts as a mediator and facilitator in every problem that exists in their area of ​​responsibility. If minor crimes are resolved by Bhabinkamtibmas, the state budget for investigation can save billions of rupiah. In the implementation of problem solving activities, there are several obstacles faced by Bhabinkamtibmas, including the influence of the problematic party or third person during the mediation process, the community does not understand the applicable laws and regulations, and Bhabinkamtibmas still does not understand the technique of problem solving, especially administrative problems.
Downloads
Download data is not yet available.
References
Adugna, Melese Teferi, and Tesfaye Zeleke Italemahu. "Crime Prevention Through Community Policing Interventions: Evidence from Harar City, Eastern Ethiopia." Humaniora 31, no. 3 (n.d.): 327–37. https://doi.org/10.22146/jh.v31i1.34626.
Asshiddiqie, Jimly. Pengantar Ilmu Hukum Tata Negara. Depok: PT Raja Grafindo Persada, 2013.
———. Perkembangan Dan Konsolidasi Lembaga Negara Pasca Reformasi. Jakarta: Sinar Grafika, 2010.
Bannegau, Kristianto. "Wawancara Dengan (Bhabinkantibmas Kampung Rarpimbo Distrik Yendidori)." 2019.
Cordner, Gary W. Cordner, Larry, K Gainer, and Victor E. Kappeler. Police Operation: Analysis and Evaluation. New York: Routledge, 1996.
Djanggih, H, and K Ahmad. "The Effectiveness of Indonesian National Police Function on Banggai Regency Police Investigation (Investigation Case Study Year 2008-2016)." Jurnal Dinamika Hukum 17, no. 2 (2017): 152–57. https://doi.org/10.20884/1.jdh.2017.17.2.722.
Harianja, Faisal Ariyoga Anastasius. "Implementasi Pemolisian Masyarakat Oleh Satuan Binmas Dalam Mencegah Tindak Pidana Pencurian Dengan Pemberatan Di Wilayah Hukum Polres Magelang." Advances in Police Science Research Journal 1, no. 4 (2017): 1485–1532.
Humberto, M. "POKDARKAMTIBMAS Pamulang Sebagai Implementasi Kemitraan Dalam Konteks Community Policing." Jurnal Kriminologi Indonesia 7, no. 1 (2012).
Indonesia. Peraturan Kapolri No. 3 Tentang Pemolisian Masyarakat (2015).
Iriyanto, M. Bagus. "Wawancara Dengan (Kapolsek Yendidori) Tanggal 26 Juni 2019." 2019.
Kananurak. "Leadership Role for Producing Professional Employees." University of the Thai Chamber of Commerce Journal 31, no. 1 (2011): 123–33.
Kepolisian Republik Indonesia. Peraturan Kapolri No. 3 Tentang Pemolisian Masyarakat (2015).
Koni, Yoslan K. "Penerapan Peraturan Kapolri Nomor 3 Tahun 2015 Tentang Pemolisian Masyarakat Dalam Penegakan Hukum Di Provinsi Gorontalo." Kertha Patrika 41, no. 1 (2019): 52–66. https://doi.org/10.24843/KP.2019.v41.i01.p05.
Raharjo, A, and A Angkasa. "Profesionalisme Polisi Dalam Penegakan Hukum." Jurnal Dinamika Hukum 11, no. 3 (2011): 389–401. https://doi.org/10.20884/1.jdh.2011.11.3.167%20389-401.
Ramadhan, Rakhmat. "Model Komunikasi Bhabinkamtibmas Dalam Menjalin Kemitraan Kepada Masyarakat." Jurnal Ilmu Komunikasi UHO 2, no. 1 (2017).
Rukus, Joseph, Mildred E. Warner, and Xue Zhang. "Community Policing: Least Effective Where Need Is Greatest." Crime & Delinquency 64, no. 14 (2018): 1858–81. https://doi.org/10.1177/0011128716686339.
Tengpongsthorn, Wuthichai. "Factors Affecting the Effectiveness of Police Performance in Metropolitan Police Bureau." Kasetsart Journal of Social Sciences 38, no. 1 (2017): 39–44. https://doi.org/10.1016/j.kjss.2016.07.001.
Uma, K. E, and F. E Eboh. "Corruption, Economic Development, and Emerging Markets: Evidence from Nigeria." Asian Journal of Management Sciences and Education 3, no. 3 (2013): 56–67.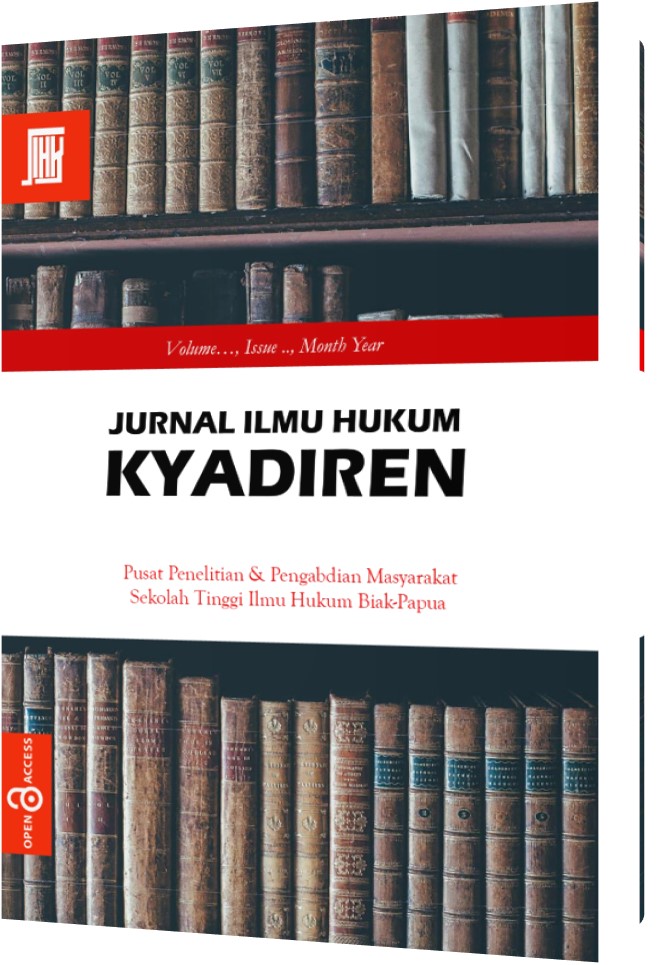 How to Cite
Djamil, Z. M. (2022). Peran Bhayangkara Pembina Keamanan dan Ketertiban Masyarakat (Bhabinkantibmas) Kepolisian Sektor Yendidori dalam Penanganan Tindak Pidana Ringan . Jurnal Ilmu Hukum Kyadiren, 2(1), 1-11. https://doi.org/10.46924/jihk.v2i1.129
Section
Original Research Articles
Copyright (c) 2020 Jurnal Ilmu Hukum Kyadiren
This work is licensed under a Creative Commons Attribution 4.0 International License.
Authors who publish with this journal agree to the following terms:
Copyright on any article is retained by the author(s).
The author grants the journal, the right of first publication with the work simultaneously licensed under a Creative Commons Attribution License that allows others to share the work with an acknowledgment of the work's authorship and initial publication in this journal.
Authors are able to enter into separate, additional contractual arrangements for the non-exclusive distribution of the journal's published version of the work (e.g., post it to an institutional repository or publish it in a book), with an acknowledgment of its initial publication in this journal.
Authors are permitted and encouraged to post their work online (e.g., in institutional repositories or on their website) prior to and during the submission process, as it can lead to productive exchanges, as well as earlier and greater citation of published work.
The article and any associated published material is distributed under the Creative Commons Attribution 4.0 International License